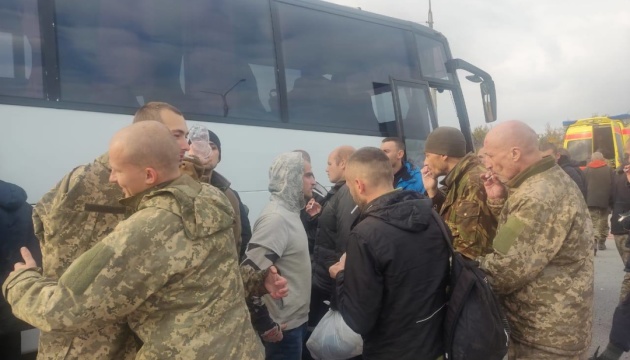 Today, 45 Ukrainian defenders returned home from Russian captivity within another prisoner swap. In total, 1,183 Ukrainians have returned home since the beginning of Russia's full-scale aggression against Ukraine.
"Another swap has just ended, and 45 Ukrainian defenders have returned home, which means that a total of 1,183 Ukrainians have returned home within swaps since the beginning of Russia's full-scale aggression, and we continue to prepare next swaps," Andriy Yusov, a representative of the press service of the Main Directorate of Intelligence of the Ministry of Defense of Ukraine, said during the nationwide news telethon.
In particular, representatives of the 58th Hetman Vyhovsky Separate Motorized Infantry Brigade, the 53rd Separate Mechanized Brigade, the 30th Separate Mechanized Brigade, the Polissia Separate Motorized Infantry Battalion, and the Ivan Bohun Separate Special Purpose Brigade returned home. All defenders need a long rehabilitation process, there are wounded among them, Yusov noted. The representative of the intelligence noted that the soldiers were captured in the east of Ukraine.
Yusov also stressed that Ukraine would make efforts to return all defenders currently held captive by the enemy. In addition, an exchange fund is being actively replenished by Russian troops whom the Russian command abandoned to their fate in the temporarily occupied territories.
As noted, Ukraine is more interested in returning its citizens home than the Russian Federation.
Answering questions about cooperation with representatives of international organizations in the matter of exchange, Yusov said: "If we talk about the process of exchange and return, it is primarily the efforts made by Ukraine."
As reported, 107 Ukrainian service members returned home within a prisoner swap on November 3.
ol
---
Source: 1,183 Ukrainians have returned from Russian captivity since full-scale war started