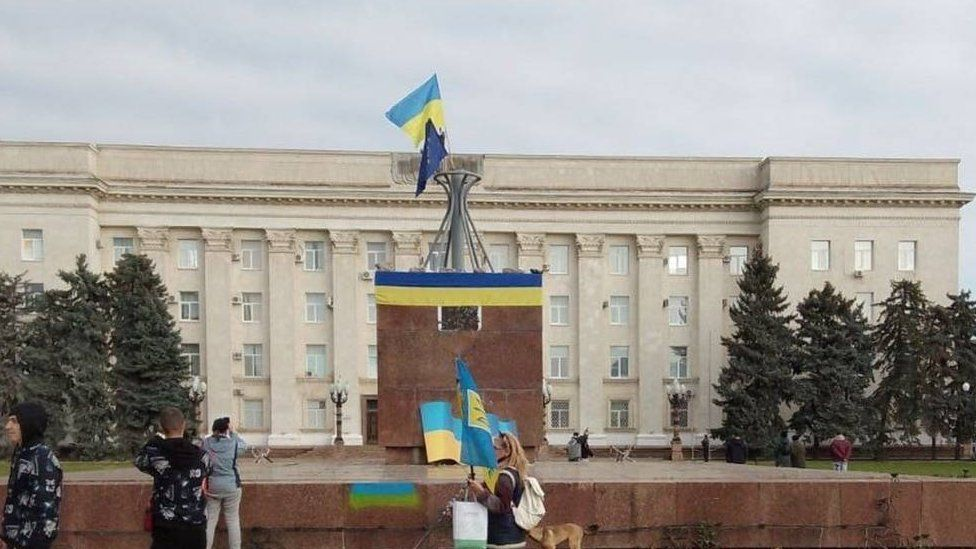 By Paul Adams
Diplomatic correspondent
When Kherson is fully back in Ukrainian hands, which now only seems a matter of time, this will represent a hugely consequential moment in a war now in its ninth month.
The loss of Kherson is on a par with Russia's humiliating withdrawal from the capital Kyiv earlier in the year, and caps a stunning three-month change of fortunes for the Ukrainians.
Nothing has gone Russia's way for months.
They've lost huge swathes of territory in the east, the flagship of their Black Sea fleet has been sunk and a crucial bridge from Russia to occupied Crimea is still out of action.
Now Russian forces have been forced to abandon the only provincial capital they had managed to capture since February's full invasion.
Just like the failed capture of Kyiv, holding on to Kherson simply became untenable.
This is the culmination of a patient, carefully-staged sequence of military moves, which began in July when Ukrainian forces, using newly-acquired American Himars rocket systems, attacked key bridges linking Russian forces in and around Kherson with their supply lines to the east and south.
Having isolated Russian forces, and convinced Moscow that Kherson was about to be attacked, Kyiv then launched its lightning offensive far to the north-east, around Kharkiv, taking Moscow completely by surprise.
But Kherson was always the big prize. In early October, an explosion closed the Kerch Bridge, which links Russia with occupied Crimea.
This was embarrassing for Moscow – the bridge was a pet project of the Russian leader, Vladimir Putin – but it also represented another massive setback for Russian forces in Kherson as it severed another key supply line.
Despite Mr Putin's claim that Kherson would be Russia "forever", following Moscow's orchestrated referendum at the end of September, the military situation for his forces west of the Dnipro river was increasingly precarious.
Quietly, and mostly at night, Russia's withdrawal began.
When the new commander of Russian forces in Ukraine, Gen Sergei Surovikin, appeared on television on Wednesday, apparently asking the defence minister's permission to order his troops to leave the city, this staged bit of theatre marked the end of the process, not the beginning. Anything of value had already gone.
The Dnipro river is a huge natural defensive line, now with almost no viable crossing points. With winter approaching, it makes plenty of military sense for Russia's demoralised troops to use it as a shield against further Ukrainian advances.
Sections of the battered Antonovsky bridge, hit for months by Ukrainian rockets, have now been demolished by Russian forces.
Satellite imagery shows freshly prepared trench lines all along the river's eastern bank, as well as newly fortified positions at key crossing points into Crimea.
But even as Ukrainian soldiers are mobbed by grateful civilians in the centre of Kherson, officials in Kyiv continue to sound cautious.
Ukrainian intelligence suggests that thousands of Russian troops may still be in Kherson and could still fight on.
There are also fears of mines and booby traps.
Those fears will be realised or evaporate in the coming hours. The battle for Kherson is almost over.
As they hunker down in their new positions across the river, the Russians must be wondering what Ukraine's next move will be.