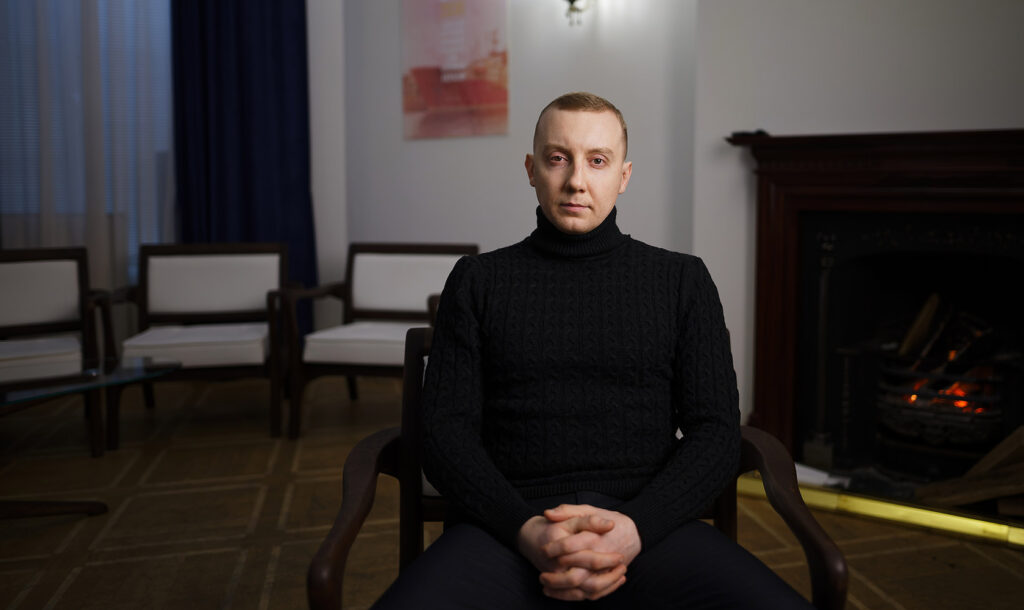 Exclusive interview of former Isolation prisoner Stanislav Aseyev with Interfax-Ukraine
The day before, you returned from France and Germany, where you talked about the Donetsk prison "Isolation", where you spent more than 2 years. Tell us more about these visits.
My visit took place within the framework of the program of the Ministry of Foreign Affairs of Ukraine "Isolation: must speak". It was launched a year ago to draw attention to the secret isolation prison not only in Ukraine but also abroad. In Ukraine, this topic has been raised to the presidential level, it is in the Tripartite Contact Group, but in the West almost no one knows about it.
The Ukrainian embassies in Germany and France organized a whole program of action. I came with Igor Kozlovsky, a former prisoner of conscience in Donetsk, and Irina Ryabenka, the director of the film Isolation, which was made in Germany.
In Berlin and Paris, I held a series of meetings with members of parliament, passed on lists of executioners from the prison administration with their personal data and photos, emphasizing that "Isolation" is a humanitarian challenge in Europe that has existed since 2014. I also told local human rights activists and the Ukrainian diaspora, particularly in Hamburg and Nice, what was happening in the occupied territories. Presentations of the German and French versions of my book The Light Path took place in both countries. By the way, the French Foreign Ministry has now heard about "Isolation" for the first time.
In addition, he recently visited the United States: Washington and New York. State Department officials and congressmen already knew about the detention in Ukraine of the ex-commandant and main criminal of "Isolation" "Palych", the day before I spoke with the American press.
We are currently continuing to move under this program. Meetings and presentations are planned for next year in Vienna, Brussels at NATO Headquarters and a number of other European countries.
I can only imagine what a stay in Isolation could have left in your life. And how do those high-ranking Western officials you spoke to react to?
Stories of electric torture or rape are not new to them in human history. That is, they understand that these are the same problems that exist around the world in local conflicts – in Iraq, Afghanistan, Sudan. The only revelation for them is that this is currently happening in Europe, in the Ukrainian Donbass.
They are cold to such information, shake hands and assure that they will try to do everything possible.
What is your personal purpose for such visits?
There are two goals: tactical and strategic. The first is to impose sanctions on the Isolation criminals we provide. After all, as it turned out, if the same "Palych" (Denis Kulikovsky, prison ex-commander), who after all his atrocities ended up in Ukraine, lived freely in Kyiv for two years, then these people can be anywhere. We need to understand that the leadership of Palych is very rich people. For example, "Lenin", also known as Vasily Yevdokimov, head of the center of special operations of the so-called "Ministry of State Security of the DPR." These people are not going to live in Donetsk all their lives. There is also a political point: if sanctions are imposed, it will automatically send a signal to Russia that the United States is aware of the existence of "Isolation" and it will be harder to deny.
Strategically, "Isolation" should be a problem for Russia at the international level, so that they are forced to close it. Of course, they never officially admit that they have anything to do with it, so there will be no public closure. But to avoid revelations like mine and other injured prisoners, it is possible that this place will be closed quietly and people will be transferred to official prisons. This requires pressure on Russia through the US State Department and Congress, the parliaments of European countries.
Many months ago, I was shocked by the news that Palych had lived in Kyiv for two years. We also know about his accomplice from among the former prisoners of "Isolation" Yevhen Brazhnikov, who after the exchange of detainees in 2019 and until recently also stayed and moved freely in Ukraine, without even being detained. Why do you think this is possible?
This is an absolutely absurd situation. And it became possible due to the peculiarities of the functioning of our judicial system.
The SBU conducted an investigation into Brazhnikov and raised suspicions. There are 9 victims and about 20 witnesses in his case. They all say the same thing – this man was making fun of prisoners. He himself was a prisoner, but was de facto part of the prison administration and moved freely through the Isolation with a cell phone. All this evidence is attached to the case file. However, the court considered that there was no threat of his pressure on witnesses and victims, as well as no threat of escape, so he did not take any precautionary measures against him.
Brazhnikov was released and given a foreign passport.
When a criminal case was opened against him, he was under house arrest for the first six months. By the way, Brazhnikov was first tried in Pokrovsk, Donetsk region. But we, as victims, managed to move the court to Kyiv, where it has no connections. He immediately fled abroad. Although until now he said that the case would fall apart before going to court. As well as
whatever comes will fall apart right in court.
Do you know in which country he is now?
He went to the Cote d'Azur, is in Marseille, France. And now he is seeking political asylum there.
By the way, he is asking for protection in France, having been accused in Ukraine under two particularly serious articles – cruel treatment of civilians and the military, as well as participation in illegal groups.
Is there, in principle, any court decision on him?
No. His trial has not even begun. The fact is that, even in Ukraine, neither he nor his lawyer were in court. The lawyer always reported that he was ill or had another parallel session.
The judge last reprimanded the lawyer and asked the bar to reprimand him. Another defense representative should be present at the next meeting. I hope that a preliminary meeting will be held, after which the procedure for submitting Brazhnikov to the wanted list can be initiated.
When is such a court hearing scheduled to take place?
It will take place on December 23.
By the way, when you were in France, did you report this?
Undoubtedly, I raised this issue in Paris. At the moment, I cannot provide details, as this is a delicate diplomatic work and it is premature to speak. I hope that our Foreign Ministry will also help resolve this issue: to prevent Brazhnikov from being granted political asylum in France, to be declared wanted by Interpol and brought to Ukraine under escort.
Returning to Isolation, you say that Brazhnikov was originally a prisoner and was involved in beatings. How did this happen?
Very easy. Half of the Isolation prisoners are local militants. Literally: colonels, majors, captains. Brazhnikov himself started the Russian Spring in 2014 with Strelkov. He has a medal for the defense of Slovyansk. When Strelkov fled from Slovyansk to Donetsk, he placed all the weapons he took out at the plant in Donetsk, where Brazhnikov worked. After Strelkov fled to Russia, and Brazhnikov was later arrested for his own weapons and thrown into the basement.
When Brazhnikov understood what "Isolation" was, he quickly orientated himself and began to cooperate with the administration so that he would not be touched. Together with Palych, he began to "extract" testimony and beat people, while receiving 8 years in prison for illegal possession of weapons.
The only option he had left was to exchange for Ukraine. And he got on those lists. In a sense, he can be understood, because now he is in Marseilles, and in the "DPR" he would sit on the bunk for many years.
In the media you can find the name of another participant of "Isolation", who was associated with Brazhnikov – is Alexei Kuskov. Ukraine took it away from Donetsk in 2017. Do you know anything about him?
I would like to know… Given that I wrote a statement to him in the SBU. The fact is that this man, together with Brazhnikov and Palych, took part in an attempted gang rape. On the night of 2017, they came to our cell. A prisoner, Zhenya Stavtsev, who is currently being held in the Makeyevka penal colony, was beaten. Pieces of Brazhnikov held him by the shoulders, Palych approached and unbuttoned his waistband. And although the very fact of rape did not take place at that time, it is an attempt.
My statement from the SBU got to the police, they sent me to some district in Donetsk region, and the case calmed down. I don't know where he is or whether he is in Ukraine at all. Maybe he ran away too. Unfortunately, this is how our law enforcement system works.
As for Palych himself, it was mentioned a little above that he stayed in Kyiv for 2 years, but was detained only at the beginning of November. As you can see, it was you who became the key figure who contributed to this. Why did this happen?
In February 2018, Palych was removed from Isolation. The reason was that he once again "broke" the whole prison, including women's cells, and beat one of the prisoners so much that he did not open his eyes. The next day, still intoxicated, he drove the people outside and started beating them. His own subordinates summoned the head of Palych, Lenin, from the MGB. He threw "Palych" in the basement. After that he disappeared.
He was brought to us again in the summer of 2018 for torture in the basement, where he "worked out" one of the prisoners and was taken away again. In the end, Palych fled from Donetsk to Russia. I think he understood that sooner or later he would be killed, because he had a lot of information, and he was covered in blood. But his stay in Russia is also a matter of time until he finds the FSB.
When the case against the participants of "Isolation" was transferred to the Red Army District Court of Donetsk region, I saw that "Palych" is not in this case. I called the police, who told me that he had crossed the Russian-Ukrainian border on April 23, 2019, and that he could not be tried in absentia because he was in Ukraine.
I called Hristo Grozev, a Bellingcat investigator, and shared this information. Within a day, he confirmed it through former SBU officers who were then "leading" Palych. I can't divulge the details, but I understand that they helped
his departure from Russia. I don't know what the SBU could have promised him, but at least life. For about six months, they used Palych for their own purposes. Then it happened that we still do not fully understand why he was released for some reason.
Later, after meetings with former Sbushniks, we found someone who knew where Palych was at the time. We turned to the police and asked to detain him. We said that we would not receive his address today or tomorrow and asked for operational support. The police promised to fulfill, and passed all the information to the SBU. They could not find Palych, but approached our informant. They "pressed" him. So "Palych" got to SBU again, he was detained.
There is a feeling from your words that "Palych" "worked" for the SBU for six months, told them the information they needed, and after that they just gave him peace
But… you understand, given who this man, as she was from 2014 to 2019 around the clock, without exaggeration, tortured, killed and raped people so that he did not tell the SBU, there can be no agreement that will end in his freedom. There may be some concessions in court, for example, minus a year or two after the verdict, but you can not just let him go to live in peace in Kiev. It is impossible.
If you have any information, where is Palych now and what is happening to him?
Now the SBU is actively working with him. He is under arrest and testifies. I know that he is being interrogated for several hours a day. He has so much information that he can be interrogated for months, but I don't know exactly where he is being held.
As a former Isolation prisoner, have you heard of the alleged attempt by the Ukrainian side to release prisoners by storming the prison?
"I didn't just hear." I had to explain this situation in Paris, because even there they ask these questions.
People who allegedly talk about the assault they wanted to do in 2019 do not understand what "Isolation" is. And this is their big problem. The assault is not possible either from the point of view of the person sitting there or technically. Around the minefields, it is necessary to bring a group of special forces to the occupied territory, most likely through Russia. Weapons are needed, and they must already be prepared in hiding in Donetsk. This means that there must be a person. After the event, the group must be located in the city, because it is impossible to storm "Isolation" immediately from the bus. Next, it is necessary to monitor the prison for at least a few days, as the MGB special forces train there from time to time. Today there may be 5 people, tomorrow 25 and all armed.
As paradoxical as it may sound, Isolation is the most vulnerable place in Donetsk. This is a huge area of ​​the former plant. Part of it goes to the private sector, there is not even a fence and there are only signal extensions. Moreover, the prison staff can't even imagine that someone can enter the territory voluntarily. The rest is surrounded by a fence and there are 2 checkpoints. That is, it is theoretically possible to storm at night, when there is only the next change.
But the people who tell these dubious stories about the assault do not understand who is sitting in "Isolation". For example, you open the 8th cell, there are 20 people sitting there, all in civilian clothes. During my 28 months in prison, there was not a day that I did not sit with one of the militants. A colonel of the 3rd Brigade, a major of the 1st Brigade, several former MGB officers, several carriers who have been there for a week and do not understand what is happening, thinking that their wife will get out of there tomorrow, may be sitting nearby. Elsewhere, there are 2-3 people with pro-Ukrainian views, the same number of those who are really related to the Ukrainian secret services and anyone else, even businessmen can sit there, who are made "spies". Imagine the situation: the door opens, all the guards are killed, people in balaclavas come in and say – go… How do you divide these people, who are militants and who are just carriers? Plus, there is a basement where the number of prisoners is not clear at all. Again, when the stormtroopers say they were going to release 51 hostages, is that a bus tour? Well, then you need 2 buses. As you are about to take them out, and one of them will agree to go with you, including three women's cameras.
Moreover, the gentleman with the call sign "Lermontov"
(real name – Mikhail Nikolov), who allegedly had to take part in this special operation, once said in an interview that after the assault, the group was going to blow up all the ammunition depots in "Isolation". Given the number of ammunition there, it would demolish part of the district, and that's not even the point, because the point of such operations is in silence… In 10 minutes after the explosion, the whole of Donetsk will be surrounded, exits from the city will be blocked.
That is, all this is a scenario of a low-level fighter. And the goal of these people is nothing more than an attempt to "swing" the President's Office against the background of all the stories with the "Wagnerians", "Palych" and so on. They play on emotions to say that the president has another "betrayal", they say, "they cooked, and Zelensky canceled everything." There are days when you can criticize the government, but you don't have to turn people's destinies into advertising stories.
"Isolation" is destiny. They are really brutally tortured and raped there. But this is what does not give the right to tell absolute nonsense to people who are simply unaware of the details of this place.
As a former Isolation prisoner, you returned to Ukraine in 2019. In fact, the issue of exchange and release of people from the occupied territories has long been one of the main issues in the Tripartite Contact Group. In your opinion, is a mechanism possible that would prevent militants from entering Ukraine as part of the exchange?
The last exchange took place in April 2020. Ukraine then took away 20 people. Three of them are already on trial. It is unclear who the militants are, such as Brazhnikov. But we can't help but take them away. When the SBU tells them that they are your militants and we do not want to take them away, they answer: then you will not get Aseyev, Ivanov, Petrov and others you ask. Or nothing at all. And we cannot get rid of this practice.
Moreover, I was contacted by former militants who spent time in "Isolation". They asked how to get into the exchange fund. They asserted that they were not involved in the violence, but, for example, simply opened and closed barriers, but they were given 15 years each. At the same time, they immediately mention that they are citizens of Ukraine. I ask: did you not confuse anything?
That is, there is no guarantee that we will not be handed over such war criminals again in the next exchange. It will also hit the image of our country, because we take them away, and then they go to France and ask for asylum there. An international scandal may start – but how does it turn out that these criminals from Donetsk get to Marseilles?
In your opinion, how many people with pro-Ukrainian views who are accused, for example, of espionage, etc., can actually be kept in ORDLO?
According to official data, 301 people are detained in the so-called "republics". Four dozen of them are military, the rest are civilians. But I am sure that this figure is much higher, because there are still places like "Isolation", former SBU premises, basements and many more.
Many?
Yes, and they work. People are being held in the basement of the State Security Service at 26 Shevchenka Street, where I spent the first month and a half, and in the Leninsky district near the TV center. Only in Donetsk there are many of these unofficial places, as well as Makeyevka, Khartsyzsk, Luhansk… But it is very difficult to say how many people there may be.
In practice, people who receive political articles – this is espionage, extremism, terrorism – very often do not have any views at all. I was sitting with people whose business was taken away in the center of Donetsk. How can this be done? Only by giving the article "espionage" and, as they call it, "nationalizing" property. Or the same carriers who were made "terrorists" by throwing TNT into their cars as they drove through checkpoints, accusing them of links to the SBU. That is why there are not so many pro-Ukrainian people who would get posts on social networks.