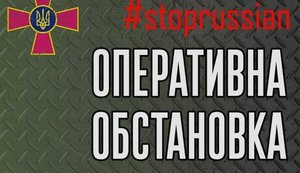 Operational information of the General Staff of the Armed Forces of Ukraine regarding the Russian invasion as of 6:00 pm on April 19, 2022.
"55 days of heroic opposition of the Ukrainian people to the Russian military invasion continue. The enemy continues to conduct a full-scale armed aggression against our state. The Russian occupiers continue to launch missile and bomb strikes on civilian and military infrastructure throughout Ukraine.
In the Volyn, Polissya, and Siversky directions, the enemy did not take active action. The movement of damaged equipment of the military units of the Eastern Military District by rail from the territory of the Republic of Belarus to the Russian Federation continues. The Armed Forces of the Russian Federation continue to use the airfield network in the territory of the Republic of Belarus to target airstrikes on civilian infrastructure in our country.
In the Slobozhansky direction the partial blockade by the enemy of the city of Kharkiv proceeds. The occupiers are trying to fire on our troops and critical infrastructure. Enemy units attempted an offensive and stormed south of Izium. They were unsuccessful, suffered losses, and were forced to retreat to their former positions.
In the Donetsk direction, near the town of Marinka, as a result of a counteroffensive by our troops, the enemy suffered losses and retreated. Units of the Defense Forces regained control of the settlement.
Fighting continues in the area of ​​Oleksandrivka in the South Bug area, but the enemy is unsuccessful. Tries to reach the administrative border of the Kherson region, but does not stop shelling settlements.
The enemy continues to suffer significant personnel losses. In order to solve the problem of recruiting units under contract, the leadership of the Armed Forces of the Russian Federation decided to sign short-term contracts for three months and simplify the form of psychophysical selection of future candidates. These measures did not lead to the desired effect. According to available information, since the beginning of the year, only 130 contract servicemen have been selected to serve in 42 parts of the Southern Military District. 22 of them have already refused to participate in the so-called "special operation" on the territory of Ukraine.
Units directly involved in armed aggression on the territory of Ukraine have a special need for staffing.
According to the available information, the personnel of two battalion tactical groups were destroyed in the 200th separate motorized infantry brigade of the 14th Army Corps of the Coastal Forces of the Northern Fleet. In addition, three companies of the 51st Parachute Regiment and the Company of the 137th Parachute Regiment, which are part of the 106th Parachute Division, were destroyed on the territory of our State.
We believe in the Armed Forces of Ukraine! Let's win together! Glory to Ukraine! "